'Someone said there was nothing lacking that Ngo Tuong Vy had to be so hard? I just laugh because I'm not making money for myself or for Chanh Thu', CEO Ngo Tuong Vy.
Every time I meet Ngo Tuong Vy - General Director of Chanh Thu Fruit Import Export Group Joint Stock Company is also full of energy. Every conversation with this young CEO always makes me wonder, what made the petite girl so worried about Vietnamese agricultural products? Ngo Tuong Vy laughs, anyone only eats two meals a day, the important thing is what I leave for this life. 
The year 2022 for Ngo Tuong Vy and Chanh Thu has many achievements. In September, Chanh Thu was the first official exporter of durian to China. In November, it exported the first batch of pomelo to the US. Before that, the boat Chanh Thu, piloted by the CEO born in 1986, brought the first batch of mangoes to the US in 2019, and the first batch of lychees to Japan in 2020.
Talking about the "firsts", Ngo Tuong Vy ponders: It is the result, also the stepping stone for us to position our products where and how the quality is, thereby building a development strategy. clear and sustainable. It is an indicator of how Vietnamese agriculture has changed its mind.
"I always think, changing the mindset from production to an agricultural economy is that each farmer, cooperative, enterprise, manager… has a little benefit in the immediate future, together perfecting the link chain and building long-term benefits," Ngo Tuong Vy said.
See more: Price of green-skinned grapefruit at US supermarkets
 TChange from China and America
Pioneering in changing market thinking, especially the Chinese market, how do you see the mindset, potential, advantages, and opportunities in this market change?
Đúng là ngày trước người Việt mình có tâm lý xem Trung Quốc là thị trường dễ tính, sản phẩm gì không bán được thì đưa sang thị trường này. Nhưng Chánh Thu It is true that in the past, Vietnamese people had the mentality of seeing China as an easy market, products that could not be sold were brought to this market. But Chanh Thu changed that mindset very early. We set ourselves the Chinese market standard as tough and give special respect. It took years to build the chain, we had an edge over many others.
Four years ago I went to Thailand and watched China apply standards to Thai agricultural products and thought, surely one day they will apply the same standards to Vietnam. In fact, that was the case. Thanks to careful preparation, the first batch of durian exported to the Chinese market was received beyond expectations.
From the media, international friends are waiting for how Vietnamese durian fruit will position in the Chinese market, and customer feedback on quality, and price... I'm glad that the price of Vietnamese durian is this time. The South in China is equivalent to Thailand even though they are ahead of us. Glad to bring benefits to the whole chain partly, the main thing is to affirm that the quality of Vietnamese durian products is second to none.
The potential of the Chinese market is still extremely large, an opportunity to be exploited better. As for durian, currently, Vietnam, Thailand, and Malaysia can only supply about 30-40% of the Chinese market demand. Many Chinese people have not been able to eat durian, and many provinces in China do not have durian yet, that is a great opportunity, and the fact that partners also ask for a lot, but Chanh Thu only provides about 1/10.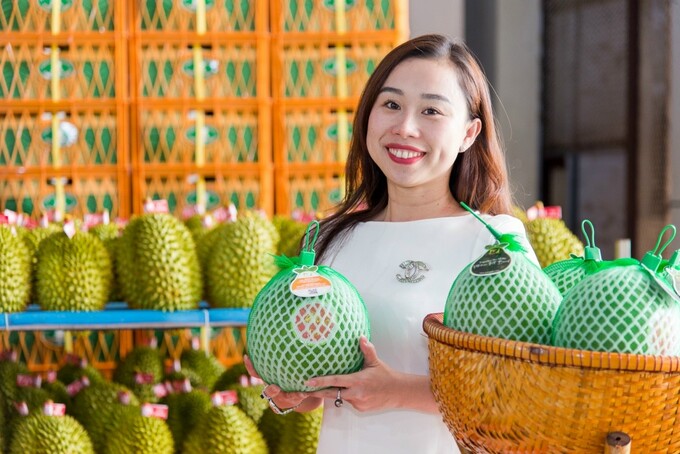 For the US market, what does the first batch of pomelos to the United States mean to you and Chanh Thu?
After exporting the first batch of pomelos to the US, I couldn't sleep for four or five nights in a row. Go to Facebook to read each customer's comment and shed tears.
Many Vietnamese people living in the US say that eating grapefruit from their homeland for the first time in a foreign land, not only satisfies their nostalgia but also overflows with national pride. Agricultural products from my hometown, my country have now changed, developed, and sold to America. I will spread it to the community here, the Vietnamese pomelo in my hometown is the best in the world…
That story is really meaningful, and reminds me of a lot of things. First of all, Chanh Thu is determined to export green-skinned pomelo because it is a product of her hometown of Ben Tre and I strongly believe in it. In 2016, when a representative of the US Department of Agriculture came to work with Chanh Thu, I introduced them to my hometown's pomelo and they all praised it. I have also traveled to many countries around the world and feel that there is nowhere as delicious as the green-skinned pomelo of Ben Tre.
Secondly, from a market perspective, seeing the right advantages and advantages of products, ensuring quality will definitely succeed. Everyone knows that the US market is the most demanding in the world, especially for citrus products. It took the Thai people many years to succeed, but Vietnamese people can do it.
That achievement, I think, is thanks to product quality and the change in farming thinking, production organization...
In order to get the first pomelo to enter the US market, Chanh Thu worked with Ben Tre province, international organizations, and associated households to apply the process to get a synchronous product that meets the standards. the most rigorous. And the results are well-rewarded. Americans who went to Ben Tre to check said that they were addicted to eating Vietnamese pomelos. The embassy there also received a lot of orders from international friends.
What remains with you after those first times?
Farmers associated with Chanh Thu are the first people I remember and feel happiness. Perhaps it is the happiness that comes from change. People associated with Chanh Thu now see the value of the product made by their hands and efforts, not only in terms of how much money they can sell but also in the value it brings to consumers.
That is what really means, is our destination. It doesn't matter who is the first to export to which market, it is important that we do a good job of linking so that pomelos or other agricultural products of Vietnam go further. No need to compete with cheap prices, no need to compete with output, but with the quality of Vietnamese products.
The first batches, I think, are just stepping stones, helping us to have lessons learned and confidence to enter another market. Help our agricultural products gain prestige and brand to make the negotiation process easier… However, in the long term, it is definitely necessary to have a clear and synchronous strategy for Vietnamese agricultural products, so as not to miss the opportunity. can develop really sustainably.
See more: Proudly the first batch of pomelos exported to the US market
What is waiting for the new Protocol to make the planting area code?
With the strategy of sustainable development of Vietnamese agricultural products, what do you think? nông sản Việt bền vững, suy nghĩ của chị như thế nào?
After exporting the first official batch of durians to China, Chanh Thu became a major supplier, but our products have not yet been able to enter supermarkets even though customers highly appreciate the quality. The reason is that the Chanh Thu production chain currently only meets about 1/10 of the needs of customers. Thanks to the Chanh Thu brand, the partner's trust should be assigned to the Thai market to ensure the required quantity.
To be honest, I went to your country to develop a Vietnamese product, I really have a lot of thoughts in my heart, but if I don't do it, I will miss the opportunity because customers can't wait for me.
What I want the most now is to hear from the local authorities about the problems that export businesses are facing. It is urgent to organize production linkages in chains, develop planting area codes, and stabilize output...
In your opinion, is the lack of strategy and policy the cause of the fact that we have not been well prepared before opening the market? chưa có sự chuẩn bị kỹ càng trước khi mở cửa thị trường hay không?
It is true that the preparation work is very limited. In my opinion, in order for us not to be passive before the market, in order to be more ready in the future when negotiating other products, there must be clear orientations, standards, and strategies.
For example, after opening the durian market, China has clear criteria, the next products such as pomelo, coconut or others must be ready to go. It is not possible to wait until after the Protocol has been issued before going to work on the code of the growing area and registering the packer. Must actively propagate and guide people to understand that growing any product must have a planting area code, in accordance with the criteria to serve the export market.
I even hope that at some point we will develop similar product criteria for domestic and export markets. If it can be done, there will be no more stories of businesses lacking a link chain like today.
Lessons in Thailand, when farmers sell products for export, attach the code of the growing area. That is, the producer are supported by the management agency to equip them with adequate standards and criteria, the business only has the task of finding the market. That's why we're falling behind.
Of course, to be called a strategy, it must be long-term. Many people are afraid to go behind others, I think differently, going behind also has its advantages. Vietnamese products are very delicious, the problem is only in building quality and brand. This is a must-do story, for farmers, traders, businesses, and especially state management agencies, to be really transparent and close to having better management thinking.
As you once shared, we not only lack strategies and policies but also lack sanctions to build a chain of links, right?
There needs to be a new sanction to build quality standards for Vietnamese-branded agricultural products, to be able to perfect the link chain, but there have been many ridiculous things for a long time.
For example, I often call farmers to participate in production according to Viet GAP, Global GAP processes, even spend money for them to attend seminars, and conferences ..., I find those stories extremely absurd. . Why don't we build sanctions so that every link in the chain must follow? Farmers who want to sell durian must have a standard farming certificate, what is the code of the planting area, how should the business meet the packaging standards, product design ...
An old lesson I have shared many times, in Thailand, they have very strong sanctions to build a national brand, and havply with ane a specific strategy to develop durian into a spearhead industry. The strategy comes with policies and sanctions, which farmers, businesses, and management agencies all have to comd thanks to that, consumers are very satisfied with Thai durian.
Vietnam has to do the same. There must be stronger sanctions for consumers to see that Vietnam is completely serious about the issue of building quality criteria and standards for agricultural products. The linkage chain must form a proactive management mindset so that agricultural products can be compatible with all markets.
An expensive lesson in Malaysia, Japan…
Raising the standards and quality of Vietnamese agricultural products, what are the lessons you learned after the journey to learn the market?
I always have had a great desire to successfully build a national brand, especially a specific fruit product that Vietnam has potential and advantages. That is the solution to raise the level of Vietnamese agricultural products.
The Japanese only need to attach the word "made in Japan" to fruit products, and they can sell them at many times the price of other countries' products despite the same varieties and care... That's because they know how to raise the value of the product, know how to build a national agricultural product brand, and capture consumer psychology, positioning each segment.
And especially, each Japanese person when using agricultural products "made in Japan" is full of pride and pride of his nation. Of course, it took a very long time for Japan to build a mindset, but in return, the value of agricultural products was greatly enhanced. Vietnamese people can also do it if they have the mentality for Vietnamese agricultural products; if each Vietnamese person is a channel to spread the brand of agricultural products "made in Vietnam".
I also learned a great lesson about Malaysian thinking of building product value. Malaysians eat Musang King durian with the mindset that durian is the best in the world. And they never run after numbers. Maybe Monthong or many other durian varieties of Thailand have more yield, a higher yield, but Malaysians still only persist with Musang King. They create value right from the product name, Musang King durian, king of durians. They hit on psychology, habits, and national pride to change consumer behavior. As a result, not only in Malaysia but in many other countries, Musang King is the durian of the rich, once you eat it, you will not think about other products.
Those are the mindsets we need to learn. It is not possible to follow the quantity and output when there have been many bloody lessons but let's create the quality and value of our products together. Survey the market, learn consumer behavior, and position each product type to have a really clear development strategy.
Chánh Thu is always ready and willing to pioneer the implementation of that strategy. Vietnamese agricultural products must conquer the market with quality and value, not just a few containers to gain a reputation, which is something Chanh Thu never did.
Chanh Thu must be a factor for a decent agriculture
Many times, she shared, the big dream of her life is to contribute to building a national brand for Vietnamese agricultural products, how are you and Chanh Thu's strategy to realize that dream?
Chanh Thu is accompanying the Ministry of Agriculture and Rural Development in negotiating to export longan to Japan. The goal in the next year will be to bring pomelo to China, New Zealand, and Australia... We are also investing nearly 500 billion VND to build a processing factory using modern freezing technology for durian products, sweet potatoes, passion fruit… in Dak Lak province.
The dream of national branding is still very much alive and I aim to achieve it, at least for durians and grapefruits.
At the time of exporting the first batch of pomelos to the US, I shared with the Ministry of Agriculture and Rural Development, in Ben Tre province, our goal is to hold hands and bring Vietnamese agricultural products to large supermarket chains such as Walmart, Costco Wholesale..., America is the most difficult market in the world, the only point we can survive and win here can only be quality, if we run after output and price, we will definitely lose. Therefore, we must go together for a long and sustainable way, not just these first few shipments.
That road alone Chanh Thu cannot go all the way. I hope other businesses in the agricultural sector will come along in the spirit of the common good, the national interest, and the interests of farmers.
We talk a lot about changing the mindset of people and managers, is corporate thinking also a big bottleneck in the goal of sustainable agricultural development?
It's a business of course everyone is for profit, but I often tell my agribusiness friends that let's make money together with pride, dignity, and compassion.
Don't ever think we're rivals. Competitors in other countries and in my own ego are what I have not been able to do. Let's be better together, and unite together to seek and conquer the bigger market, for the sake of Vietnamese farmers and brands of agricultural products. Let's learn from Japan and Taiwan to build a brand together so that wherever people go, Vietnam has this product and that product is worthy of living a life.
Since when has that philosophy of Chanh Thu changed?
In fact, Chanh Thu was also a business that came up from difficulties in the past, also running after rice, money, but about 3 years ago, it was different. I pursue the goal that Chanh Thu brand must develop forever.
Although I know it's extremely difficult, my parents are veterans who worked hard to build Chanh Thu. As a successor, of course, it must be preserved and promoted, but I hope that the person who drives Chanh Thu in the future does not have to be in the family, just define: Chanh Thu must be a contributing factor for the agricultural industry. Sincerely, the value Chanh Thu created must be a bright spot for the world to see Vietnamese agricultural products better.
Chanh Thu's ecosystem is still mainly farmers, workers, and disadvantaged people who are embraced by the whole society. Chanh Thu has achieved the success it is today thanks to many great contributions from those people. My pursuit is to bring value to them. Some people say that Ngo Tuong Vy lacks anything else, why must it be so extreme? I just laughed. I did not go to earn money for myself, for Chanh Thu. Going is to create the values of the people in our ecosystem, that is the sincere aspiration, is true happiness.
Happiness comes from the trust and words shared by farmers, "If you die, you will follow me", from the feeling of pride in Vietnam of many young people whenever they see Vietnamese agricultural products appearing in Vietnam. market in advanced countries. Those are the motivations that motivate me to go and be consistent with my path and goals.
Nguồn: Agriculture Newspaper